TOP 1 ACTION MATIC 20W-40 JASO MB
---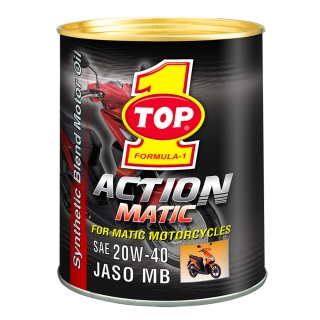 ---
Synthetic Oil For Matic Motorcycle
TOP 1 ACTION MATIC is a 4T high performance oil designed to meet the latest motorcycle manufacturers warranty requirements. Specifically formulated to meet the demands of the small displacement high RPM fuel efficient engines found in today's domestic and foreign motorcycles. These engines experience higher operating temperatures and require a motor oil which offers maximum protection against both viscosity and thermal breakdown.

The oil is a blend of Synthetic / Hydrocraked premium base oils and special additives which protects against high temperature oxidation, wear, and viscosity breakdown. It is fortified with detergent-dispersants and rust and corrosion inhibitors to keep engines exceptionally clean and free of sludge, varnish and rust.

It meets the performance of API SJ, JASO MB specification. The product is specially designed for "Dry" clutch systems.

FEATURES AND ADVANTAGES
SAE 10W-40 meets and exceeds OEMs warranty requirements.
Highly oxidation stable - protects engine from oil thickening, high temperature sludge and varnish deposits.
Effective detergent-dispersants keeps engine parts clean.
High TBN/alkaline reserve effectively neutralizes corrosive acids formed by combustion to protect critical turbo bearings and other vital engine surfaces.
Anti-wear agents effectively protect cam lobes and other highly loaded parts from wear.
Exceeds API Service Classification of API SJ/CD, JASO MB requirements.
Recommended for "dry" types of Motorcycles.

Packaging available:
800 cc (can)

Recommended use:
YAMAHA Mio, Xeon